May 2022
Kevin's farewell dinner at Minghin with the whole lab!
Summer 2021
One of Choi Lab papers in Blood (2021) was covered by Northwestern.
More details can be found here:
https://news.feinberg.northwestern.edu/2021/08/gene-implicated-in-poor-skin-cancer-therapy-outcomes/
Congratulations to Jay for receiving Northwestern Driskill Scholar Award and NIH Ruth L. Kirschstein National Research Service Award (NRSA) F30 Grant.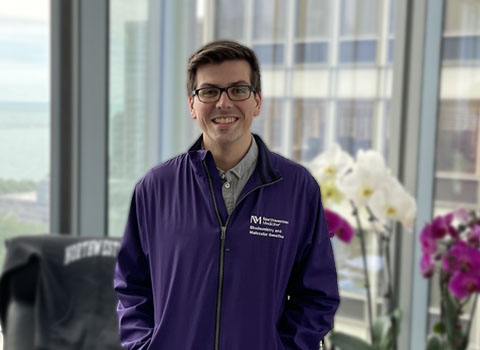 https://www.feinberg.northwestern.edu/sites/biochem/about/Jay%20Daniels,%20G3%20MDPhD%20Student%20receives%20the%20Ruth%20L.%20Kirschstein%20National%20Research%20Service%20Award%20NRSA%20F30%20grant.html
Spring 2021
Congratulations to Jae for being elected into ASCI.
Grateful to LLS for awarding us an LLS Scholar Award.
Summer 2020
Congratulations to Kevin, Yue, and Calvin for receiving grants to fund their research in the lab.
Kevin- Northwestern SURG grant
Yue- AOA Research Grant
Calvin- Carcinogenesis T32 Grant
February 2020
Jae gives a talk at TUM and has dinner with the Ruland lab.
December 2019
Jae gives Duhring Grand Rounds at UPENN
November 2019
Congratulations on your first thesis committee meeting, Jay. your thesis proposal is accepted!
November 2019
Teng Liu, the Bioinformatics post-doc, joins the Choi Lab
September 2019
Jae is awarded the NCCN Young Investigator Award.
August 2019
Katie Lee (UIC), Yue "Jerry" Zhang (Northwestern), and Kian Rahbari (Northwestern) join the lab
July 2019
The Choi lab receives the Damon Runyon Clinical Investigator Continuation Grant.
June 2019
Jay passes his qualifying exam!
May 2019
Calvin Law joins the lab! Spicy!
June 2019
Cancer Wellness Magazine profiles Jae and Jen.
October 2018
Jae is a finalist for the FNIH Trailblazer Award! As part of the award ceremony, he gives a talk on Capitol Hill, highlighting the importance of the physician scientist track.. We must support our trainees!
September 2018
Jae and Jen receive the Compassionate Care Awards from the Melanoma Research Foundation!
Pre-2018, please see twitter. @jaehyukchoimd
or follow the posts.